At Integrated Laboratory Services, it is our mission to create world class laboratories through innovation and creativity.
We design and manufacture a wide range of high performance fume cupboards, fume hoods and L.E.V products in our modern spacious factory in North Yorkshire.
New and existing fume cupboards, fume hoods and LEV systems require routine inspection and testing to ensure you are continuing to comply with COSHH Regulation 9 – Maintenance. 
Under this regulation, it is a requirement for the employer to ensure that all Local Exhaust Ventilation Systems (LEV) including fume cupboards are regularly subject to an examination at least once every 14 months.
BS EN14175 is the British standard that cover the design, manufacture, installation and maintenance of fume cupboards. Section 4 covers the On-Site test methods. All service and inspections carried out by Integrated Laboratory Services comply with this standard. 
Once your fume cupboard has been inspected, we will issue a report that includes face velocity values and any remedial work that's required in order for your fume cupboard to remain compliant.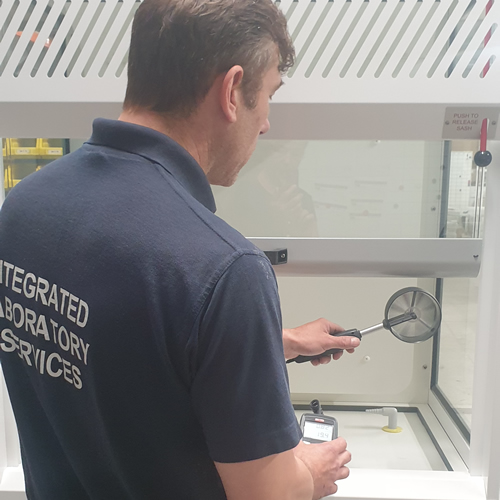 Read our introduction to fume cupboards
If you are new to buying and using fume cupboards, you might be interested in reading our guide, this is a great introduction into fume cupboards, their usage and considerations.
For further advice and information feel free to give us a call – Contact Us.